This locator is the result of many years of research on vampire detection. Its operation has become a reality thanks to the combination of modern technologies and an essential ingredient, a piece of vampire coffin. Each model therefore contains a genuine piece of wood, protected from deterioration in order for the locator to remain precise.
It uses various technologies of the Werewolf locator, which has proven its worth on iPhone for over 10 years and 750,000 downloads.
You are a professional vampire hunter, strange phenomena lover, or just want to protect yourself ? This locator is made for you !
Features
• Radar with fast and precise vampires detection
• Useful information (position, first name, sex, age, etc)
• Blood-o-meter
• Vampire world map
• The Vampire Herald
• And many other functionalities with cheat codes
• No In-App Purchase!
This app is for entertainment purpose only.
Icon inspired by icons8.com
All the updates since 1.0 : Changelog
---
Ce détecteur est issu d'années de recherche sur la détection de vampires. Son fonctionnement est aujourd'hui rendu possible grâce à l'association de différentes technologies modernes et d'un élément indispensable, un fragment de cercueil de vampire. Chaque modèle contient donc une véritable pièce de bois, protégée des altérations afin que le détecteur conserve sa précision.
Il emprunte certaines technologies au Détecteur de Loups-Garous, qui a fait ses preuves sur iPhone depuis plus de 10 ans et plus de 750.000 téléchargements.
Vous êtes chasseur de vampire professionnel, amateur de phénomènes étranges, ou souhaitez simplement vous protéger ? Ce détecteur est pour vous !
Fonctionnalités
• Radar avec une recherche rapide et précise des vampires
• Informations utiles (position, prénom, sexe, âge, année de transformation, victimes, etc)
• Sanguinomètre
• Carte des vampires
• Gazette des vampires
• Et d'autres fonctionnalités à découvrir avec les nombreux «cheat codes»
• Pas d'achats «In-App» !
Cette application est uniquement pour le divertissement.
Toutes les modifications depuis la 1.0 : Changelog
---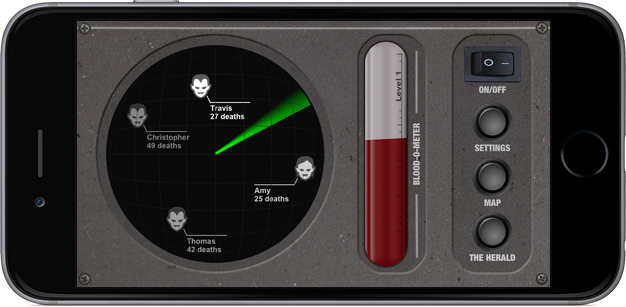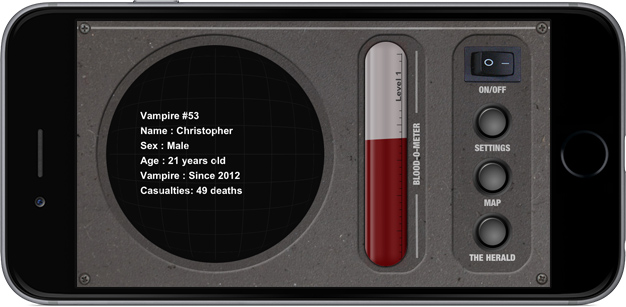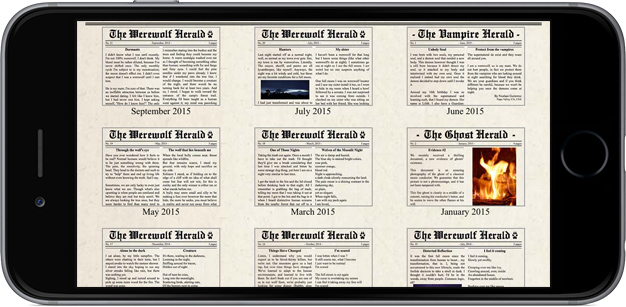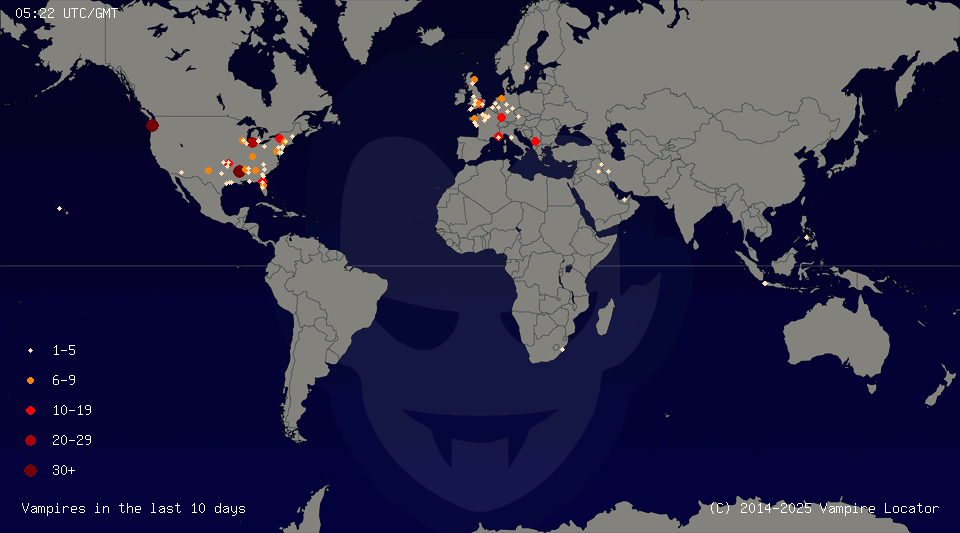 This map presents the vampires found around the world by the Vampire Locator in the last days…
---
Comments about the app are open in "Vampire Locator is available !".
If you want to talk about vampires, "Let's talk about werewolves and creatures…".