The Strange Creature Locator is currently not available in the App Store. Stay tuned…
Detect surrounding vampires, werewolves, ghosts, zombies, aliens and many more strange creatures which existence you have never imagined… Also chat with these creatures, and hunt them in an original Shoot'em up game !
App Store Reviews (US) :
This app saved my life… ★★★★★
Cool, awesome AMAZING!!!:) ★★★★★
It's a very fun and addictive app! ★★★★★
Locator
• More than 70 different creatures (see below)
• Free online creatures updates, including new creatures
• Useful information (position, casualties, actions, gender, age, size, weight, fur, speed, etc)
• Precise radar visualization, intuitive touch screen movements, accelerometer or compass
• Creature-o-pedia (bestiary)
• Secret features with Cheat codes
• No In-App Purchase, no additional costs
Chat
• Discuss with the creatures
Hunter
• Original rotary Shoot'em up game
• Fight against the discovered creatures
• Easy to learn, difficult to master
• Leaderboard
Creatures
• 2015 : Ghouls, living snowmen, ice dragons, mad scientists, centaurs, headless horsemen
• 2014 : Frankenstein's monster, golems, chupacabras, leprechauns, possessed dolls, banshees, basilisks, phoenixes, the rake, Halloween secret creature, creepy clowns, hellhounds
• 2013 : Giant worms, witches, water, air, earth and fire spirits, evil mushrooms, giant bats, minotaurs, demons, werecats, the bigfoot, gargoyles, jeff the killer
• 2012 : Krakens, cursed mummies, unicorns, permanent werewolves, cyclopes, trolls, mermaids, dinosaur eggs, cerberus, robots, the slenderman
• 2011 : Gnomes (two different races), irradiated spiders, giant spiders, fairies, elves, dwarves, pegasus, dragons, dark wizards, griffins, giants, orcs, lutins, an hidden creature
• 2010 : Werewolves, vampires, ghosts, UFO, invisible men, aliens, angels, zombies, skeletons, the devil, Nessie, Halloween secret creature, goblins, Cheshire cat
All the updates since 1.0 : Changelog
---
Détectez les vampires, loups-garous, fantômes, morts-vivants, extra-terrestres et autres créatures étranges qui vous entourent et dont vous ne soupçonnez pas l'existence… Discutez avec ces créatures, et chassez les dans un Shoot'em up original !
Avis App Store (US) :
Cette appli m'a sauvé la vie… ★★★★★
Cool, impressionnant, étonnant !!!:) ★★★★★
Appli très fun et addictive ! ★★★★★
Détecteur
• Détection de plus de 70 créatures différentes (voir plus bas)
• Mise à jour des créatures en ligne et gratuite, nouvelles créatures
• Informations utiles (position, victimes, action, sexe, âge, taille, poids, pelage, vitesse, etc)
• Visualisation sur un radar précis, déplacements tactiles intuitifs, par accéléromètre, par boussole
• Bestiaire
• Fonctionnalités secrètes avec les Cheat codes
• Pas d'achats "In-App", pas de coûts supplémentaires
Chat
• Discutez avec les créatures !
Chasseur
• Shoot'em up rotatif original
• Combat contre les créatures découvertes par le détecteur
• Niveaux de difficulté croissante
• Classements Game Center
Créatures
• 2015 : Goules, bonhommes de neige vivants, dragons de glace, savants fous, centaures, cavaliers sans tête
• 2014 : Monstre de Frankenstein, golems, chupacabras, leprechauns, poupées possédées, banshees, basilics, phénix, le rake, créature secrète Halloween, clowns méchants, chiens de l'enfer
• 2013 : Vers géants, sorcières, esprits de l'eau, de l'air, de la terre et du feu, champignons maléfiques, chauve-souris géantes, minotaures, démons, chats-garous, bigfoot, gargouilles, jeff le tueur
• 2012 : Krakens, momies maudites, licornes, loups-garous permanents, cyclopes, trolls, sirènes, oeufs de dinosaure, cerbères, robots, le slenderman
• 2011 : Gnomes (deux races), araignées irradiées, araignées géantes, fées, elfes, nains, pégase, dragons, sorciers noirs, griffons, géants, orques, lutins, créature cachée
• 2010 : Loups-garous, vampires, fantômes, OVNI, hommes invisibles, extra-terrestres, anges, morts vivants, squelettes, le diable, Nessie, créatures secrète Halloween, gobelins, chat du Cheshire
Toutes les modifications depuis la 1.0 : Changelog
---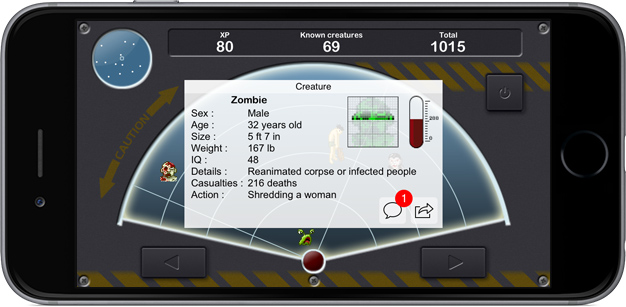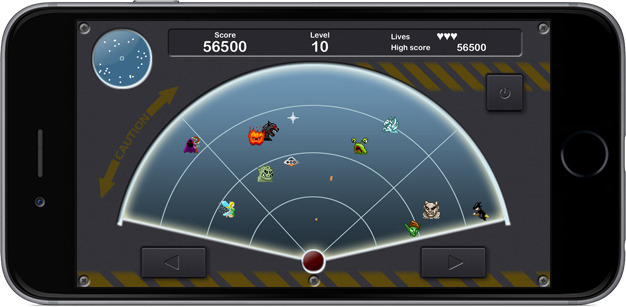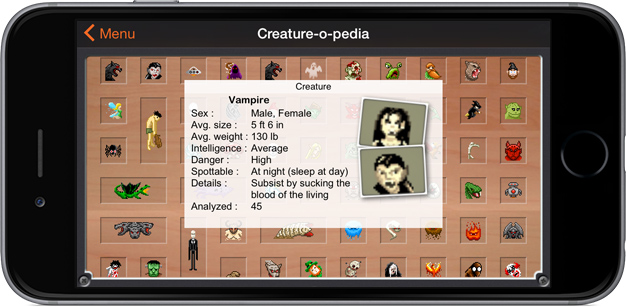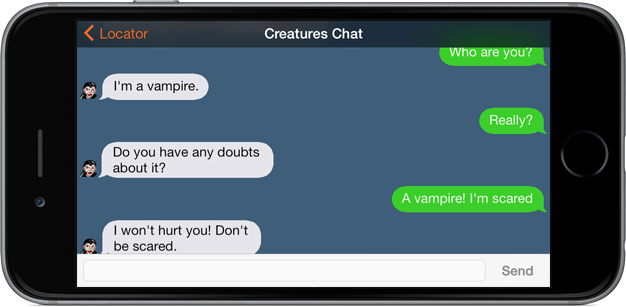 ---
Comments are open in "Strange Creatures Locator is available !".