This ghost locator is based on a detection method dating back to the Middle Ages, which remained secret for a long time. It enables a precise localization of ghosts and gives you a lot of useful information.
«Of all the apps I tested, Ghost Locator may be my favorite» The Daily Dot
«It comes with the nifty feature Ghost Herald» Headlines & Global News
Features
• Radar with fast and precise ghosts detection
• Useful information (position, first name, sex, age, death year and cause, etc)
• Ghosts world map
• The Ghost Herald
• And many other functionalities with cheat codes, including a «Celebrities ghosts» mode
• No In-App Purchase!
A part of this technology was used in the famous Werewolf Locator, available on iPhone since 2009, and downloaded 750,000 times around the world !
This application is intended for entertainment purposes only.
All the updates since 1.0 : Changelog
---
Ce détecteur de fantômes est basé sur une méthode de recherche du moyen âge, dont les procédés sont restés très longtemps secrets. Il permet de localiser les fantômes précisément et d'obtenir de nombreux renseignements.
«De toutes les applications testées, ce Détecteur de Fantômes est sans doute mon préféré» The Daily Dot
«Contient la géniale Gazette des Fantômes» Headlines & Global News
Fonctionnalités
• Radar avec une recherche rapide et précise des fantômes
• Informations utiles (position, prénom, sexe, âge, année et motif de mort, etc)
• Carte des fantômes
• Gazette des fantômes
• Et d'autres fonctionnalités à découvrir avec les nombreux «Cheat codes», comme les fantômes de célébrités !
• Pas d'achats «In-App» !
Une partie de cette technologie est dérivée du Détecteur de Loups-Garous, qui a fait ses preuves depuis plus de 10 ans sur iPhone, et a été téléchargé 750.000 fois dans le monde entier !
Cette application est uniquement pour le divertissement.
Toutes les modifications depuis la 1.0 : Changelog
---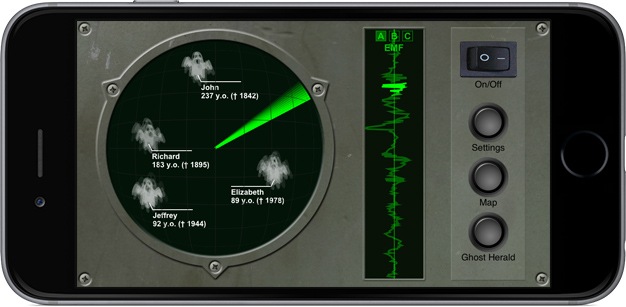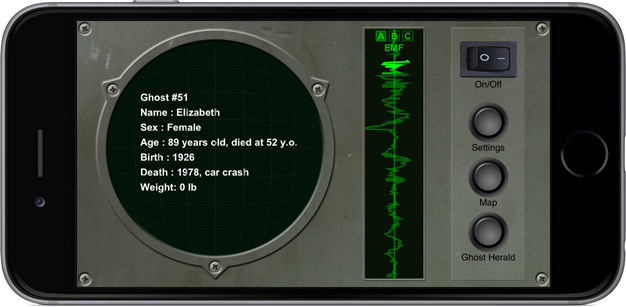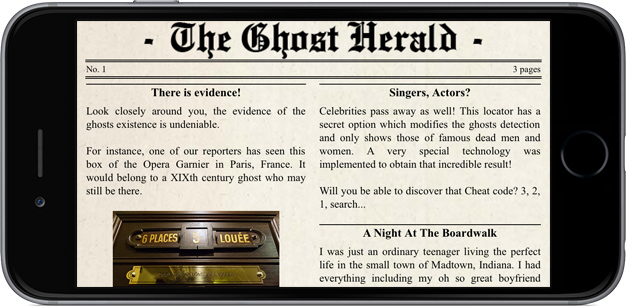 This map presents the ghosts found around the world by the Ghost Locator in the last days…
---
Comments about the app are open in "Ghost Locator is available !".
If you want to talk about ghosts, "Let's talk about werewolves and creatures…".